Ground Control software
Software downloads and install instructions can be found here.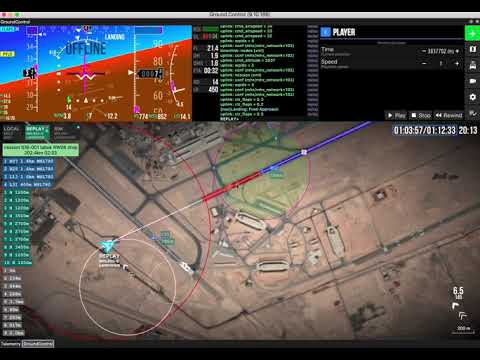 Data storage
The GCS app stores all data in databases. The folder used to save user data is Documents/UAVOS. Telemetry data and vehicle configuration could be shared through XML files, exported from the GCS.
HTTP Server
The GCS app has built-in HTTP server (listening on port 9080).
Server capabilities include:
Provide datalink stream to other GCS components
Control any particular Mandala variable
Execute JavaScript commands
Return any or all Mandala variable values
Google Earth real-time flight visualization and analyzis of telemetry data.
To see the server welcome message - start the GCS and open this link in browser:
Multiple GCS operation
The GCS software upon startup will look for available servers and try to connect with the following order:
Localhost server
Last successfully connected server
Next available server
Although, the GCS will try to bind its own default server on local machine.
When GCS finds another server in local network, it appears under menu Preferences/Datalink/Remote servers and can be used for datalink connection.
VPN Support
Datalink server (part of GCS Software) has the capability to establish connection through internet with another GCS.
Two or more GCS interfaces could be connected to one or more datalink modems. the connection requires static ip, thus VPN connection is recommended.
To request for online support for tuning or troubleshooting, contact us to receive credentials to access our network.
The connection through our network can be established via menu Help/VPN Support.
Mandala control
The server will accept any request beginning with /mandala. The request parameters are following ? char, and are optional. Several request parameters can be combined in one request and separated by the & sign.
The following parameters are accepted:
<variable name> - will return it's value, f.ex. '?ctr_brake'
<variable name>=<value> - will set the new value and send it to UAV
descr - variables will be returned with their descriptions
scr=<QtScript text> - will execute a QtScript
For example, assuming you run GCS on the local machine, the following requests are valid:
Google Earth Visualization
Add the following link to Google Earth:
http://<IP address of GCS machine>:9080/kml
.. i.e. if you run both the GCS and GoogleEarth on the same machine, use:
http://127.0.0.1:9080/kml
Customization & Plugins
The Software Development Kit (SDK) is provided with each GCS application package version. The SDK files can be downloaded here: apx-releases. Download the tarball for your operation system, the name of tarball starts with APX_SDK_…
All user plugins should be installed in Documents/UAVOS/Plugins folder.
Supported plugins
C++ plugins, compiled with provided SDK (plugin_interface.h)
QML files
User plugins are loaded from Documents/UAVOS/Plugins folder. For examples of QML plugins, see our github repositories.